First Day Open is January 2, 2014
It is very exciting seeing the space move into the final month of construction.
Many of you contributed ideas for room themes and later this month I will post room pictures so you can get a peek ahead of time!
On December 31st our Saxony and Fishers staff will be
ready to greet you at the new location which is less than five minutes from the current Saxony and Fishers office.
Convenient in-building pharmacy

Imaging services, including x-ray and CT scans

Sports medicine and rehab physical therapy services

Orthopedics services

Spacious parking in the back of the building with c

overed drive for patient pick-up and drop-off
While the construction on the office at the Community Health Pavilion Noblesville is underway, the Fishers office continues to remain open and Saxony patients are being seen at the Fishers office on Parkside Drive or the Castleton office on the Community North Campus.
I welcome your questions and comments.
Linda
________________________________________________________________________________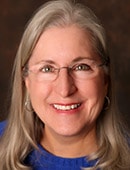 Linda Kortanek
Executive Practice Director
Linda is the Executive Practice Director at Northpoint Pediatrics. A mom of three and grandmother of seven (soon to be eight!) fabulous 'GRANDones', combined with 21 years of pediatric medical practice management has made her a passionate advocate when it comes to making sure children get the care they need!
To contact Linda call 317-621-9112 or send an email to lkortanek@ec
ommunity.com
.